Industrial sectional door consists of high quality sandwich panels that offer great insulation 40 mm thick, stuffed inside of insulating polyurethane foam, high-density (40 kg/m3), with different models and finishes. The hinges, roll holder and other accessories of galvanized steel are certified by the TÜV, cables and springs meet regulations specific machines for each case.
All our doors have special safety devices in docks and cable break protection. Our production processes are certified according to standard EN 13241-1:2003 required according to Directive 89/106/EEC. With several options open, adapting to their needs, standard maneuvers on high, inclined or guillotines. We offer comfort, safety, aesthetics and functionality in their facilities.
The uses of these doors are clearly varied due to their high adaptability. They can be installed in any building or industrial building, and their airtightness, robustness, the protection they offer and their simple aesthetics make them suitable for use in a wide range of situations and applications.
In addition, they are ideal for space-saving and promoting the safe transport of any product and material, preventing unwanted elements or accesses from penetrating once they are closed.
Industrial sectional doors are often made of high-quality sandwich panels.
This product offers high thermal insulation. This quality is produced thanks to its 40 mm thickness and its high-density expanded polyurethane insulation foam filling.
The hinges, roller holders and the rest of the zinc-coated steel accessories that make up this type of door are certified. This means that they comply with all the required safety regulations and also have specific safety devices on the springs that help protect the mechanism against cable breakage.
The design this type of door usually presents is the key to its high adaptability. As they are made of several compact panels that roll up on themselves, they do not take up any space either on the outside of the enclosure they are in or on the inside. Those that we offer at Dippanel have several opening options, which can be chosen between standard, raised, inclined or guillotine manoeuvres.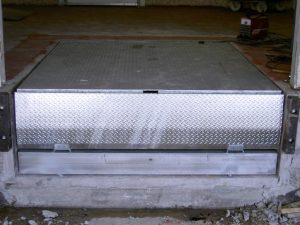 Platform hydraulic swing lip of hydraulic lift-drop of it, and hydraulic control of the lip.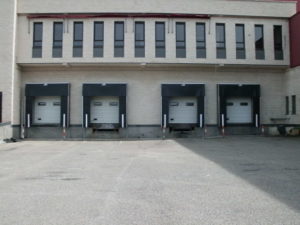 The spring coats are indicated for installation in ships that wish to isolate the merchandise zone with temperature control and zones with the maximum hygienic guarantees in the handling of merchandise.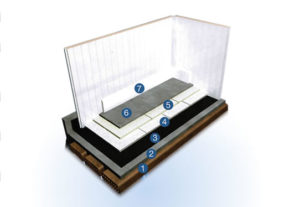 Insulation with alveolar ventilation system, sunbeds, sunbeds, asphalt fabric …