Sliding door automatic kit
Sliding door automatic kit
Sliding door kits offer protection from temperature, because if it is too high, the motor will cut off the power supply to prevent damage. These motors are equipped with opening and closing limiters, increasing safety and functionality.
Tractor bar made of white lacquered extruded aluminium, it includes inside the pulleys and the belt by means of which the transmission is made between the anchor piece, fixed in the belt, and the driving piece located in the refrigerator door.
Electronic control panel: it allows a connection to a single-phase network, exact control of the opening and closing stops, speed selection and waiting time. Includes frequency converter and programmable automaton that provides the system with acceleration and braking ramps.

Geared motor equipment: three-phase equipment for direct insertion into the traction bar, regulated by the frequency converter, which prolongs its life.

Degree of protection: normal environments free of condensation. In case of low temperature refrigeration chamber, specify.
Power supply: single-phase + ground.
Activation system: button, chain, magnetic field, photocell, radar, remote control.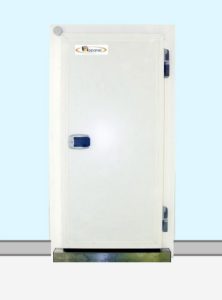 Refrigeration hinged door designed for continuous and sustainable employment in the food industry.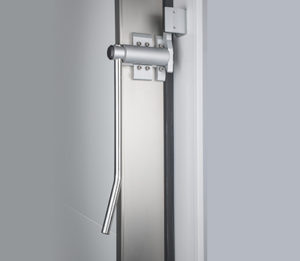 Refrigerating door designed specifically for the industry, for intensive conservation, freezing and / or tunneling uses.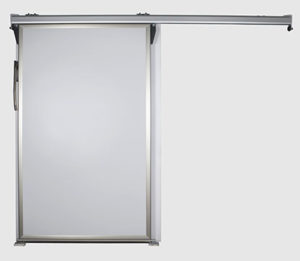 Refrigerating door designed specifically for refrigerated or frozen products in a commercial environment where it is not necessary to maintain high temperatures below zero.