Commercial sliding refrigerating door
Refrigerating door designed specifically for refrigerated or frozen products in a commercial environment where it is not necessary to maintain high temperatures below zero.
Refrigerating door of an excellent quality of finishes and materials that stands out for its easy handling, robustness and a very careful aesthetics.
Sheet
High density polyurethane foam (45/50 kg / m3) with fire rating Bs20. Sheet steel 0.6 mm galvanized and white lacquered. Reinforced and edged around its perimeter with an extruded aluminum profile with stainless steel finish.
Thickness
60mm (cooling), 80mm (freezing to -15ºC) and 100mm (freezing to -20ºC).
Frame
Frame and counter frame in white extruded aluminum with double thermal bridge break. High strength treatment fixed with hidden screws adaptable to different thicknesses. The aluminum profiles are reinforced with housing for frost resistance (low temperature). It includes high heating resistors (temperatures up to -20ºC).
Fittings
Sliding guide manufactured with extruded aluminum profile, system guided by 2 bearings and anodized finish with adjustment ramps. Green lacquered lever-type inner handle with reflective markings and stainless steel lever handle. The screws are  completely made of stainless steel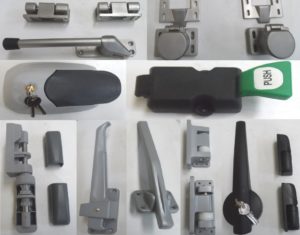 These accessories are perfectly valid to repair or improve the characteristics of your refrigerator door.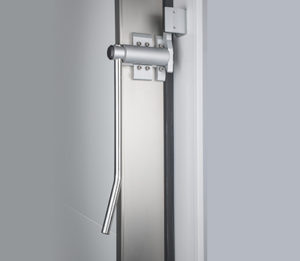 Refrigerating door designed specifically for the industry, for intensive conservation, freezing and / or tunneling uses.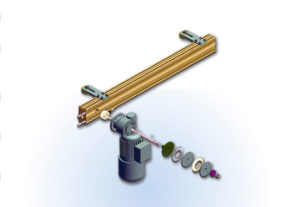 Preassembled, so assembly is quick and easy. Tractor consists of a bar made of extruded aluminum lacquer, in the interior are allowed all the mechanisms of transmission and engine to power the refrigerator door.